— Related to the School of No Media Quotes —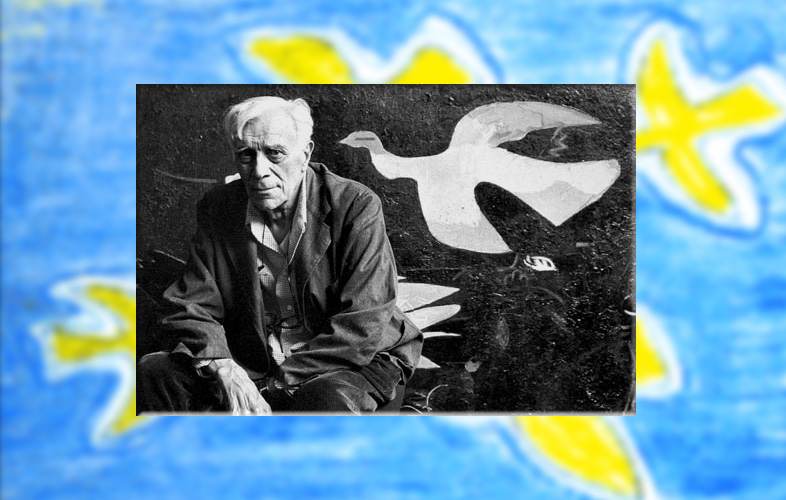 [my translation]
Georges Braque dans Le Jour et la Nuit (Cahiers de Georges Braque 1917-1952) – Copyright Gallimard
Avoir la tête libre : être présent.
Having a free head: to be present.

Je ne fais pas comme je veux, je fais comme je peux.


I don't do as I want, I do what I can.

Il n'est en art qu'une chose qui vaille : celle qu'on ne peut expliquer.


Only one thing is worth it in art: that which one cannot explain.

Ceux qui vont de l'avant tournent le dos aux suiveurs. C'est tout ce que les suiveurs méritent.


Those who move forward have their back to those who follow. That is all that the followers deserve.

J'ai le souci de me mettre à l'unisson de la nature, bien plus que de la copier.


My concern is to put myself in unison with nature, much more than to copy it.

Écrire n'est pas décrire, peindre n'est pas dépeindre.


To write is not to describe, to paint is not to depict.

L

a vraisemblance n'est que trompe-l'œil.




Realism is but a trompe-l'œil (optical illusion) technique.




Le progrès en art ne consiste pas à étendre ses limites, mais à les mieux connaître.
Progress in art does not consist of extending its limits, but of knowing more about them.


Définir une chose c'est substituer la définition.
To define a thing is to substitute its definition.


L'action est une suite d'actes désespérés qui permet de garder l'espoir.
An action is a series of desperate acts that allows one to remain hopeful.


Le conformisme commence à la définition.
Conformism begins with the definition.


L

e vase donne une forme au vide, et la musique au silence.




A vase provides a shape to the void, and silence to music.




On ne peut pas avoir toujours un chapeau à la main, c'est pourquoi on a inventé le portemanteau. Moi j'ai trouvé la peinture pour suspendre à un clou mes idées : cela permet d'en changer et d'éviter l'idée fixe.
One can never have a hat always in one's hand, that's why we invented the coat rack. As for me, I have found painting as a way to hang my ideas onto a nail: it allows me to change them and to avoid obsessions.


Ma thèse tient? C'est que vous la soutenez.
My thesis holds up well? It's because you support it.


La vérité existe ; on n'invente que le mensonge.
Truth exists ; all we invent is the lie.


Il faut choisir : une chose ne peut être à la fois vraie et vraisemblable.
One must choose: a thing cannot be both truthful and credible.


Il faut toujours avoir deux idées, l'une pour détruire l'autre.
One must always have two ideas, one to destroy the other.


Je n'ai jamais pu discerner un commencement d'une fin.
I have never been able to discern a beginning from an end.


Le pessimiste ne protège pas ses idées, il les expose.
A pessimist does not protect his ideas, he exposes them.


Il a beau changer d'idées, il est comme moi, il garde le nez au milieu du visage.
Even if he switches his ideas, just like me, he keeps his nose in the middle of his face.


Ceux qui s'appuient sur le passé pour prophétiser feignent d'ignorer que ce passé n'est qu'une hypothèse.
Those that rely on the past to prophesize pretend to ignore that this past is only an hypothesis.


La vérité se protège elle-même : les antagonismes croissent autour d'elle avec symétrie sans l'atteindre.
Truth protects itself: antagonisms grow around it with a symmetry without reaching it.


L'idéalisme est une forme convenue de l'espérance.
Idealism is an agreed upon form of hope.


La magie est l'ensemble de moyens qui suscite la crédulité.
Magic is the cumulation of those means which produces gullibility.


Le tableau est fini quand il a effacé l'idée.
The painting is finished when it has erased the idea.


Peu de gens peuvent se dire : je suis là. Ils se cherchent dans le passé et se voient dans l'avenir.
Very few people are able to say: I am here. They seek themselves in the past and see themselves in the future.


Ce qu'on ne nous prend pas nous reste, c'est le meilleur de nous-mêmes.
What is not taken away from us stays with us, it's the best of us.


Les frontières sont les limites de la résistance. Le lac demande à ses bords de le contenir.
Boundaries are the limits of resistance. The lake asks of its shores to contain it.


Ne jamais adhérer.
Never to subscribe.


L'écho répond à l'écho. Tout se répercute.
The echo responds to the echo. Everything reverberates itself.


Avec l'âge, l'art et la vie ne font qu'un.
With age, art and life are but one.


Je ne cherche pas la définition. Je tends vers l'infinition.
I don't look for a definition. I tend towards the undefined.

C'est l'imprévisible qui crée l'événement.
It is what is unpredictable that creates the event.


Le militant est un homme masqué.
The militant is a masked being.


La culture engendre la monstruosité.
It is the culture that creates the monstrosity.


Il faut se contenter de découvrir, mais se garder d'expliquer.
One must be content to discover, and refrain to explain.

Dans le présent, rien ne se pose, tout se conjugue. Force et résistance ne font qu'un.
In the present, nothing posits itself, everything is conjugated. Force and resistance are but one.


Il n'y a que celui qui sait ce qu'il veut qui se trompe.
Only the one that knows what he wants is mistaken.


La connaissance du passé ; la révélation du présent.
The knowledge of the past; the revelation of the present.


Les preuves fatiguent la vérité.
Proofs wear out truth.


L'espoir est né de la crainte du lendemain.
Hope is born out fear of the next day.


La vérité n'a pas de contraire.
Truth has no opposite.

Le moraliste perfectionne le mal pour exalter le bien…
A moralist refines evil to exalt the good…


Les intellectuels : les besogneux de l'intelligence.
Intellectuals: those inept with their intelligence.


Pour moi, il ne s'agit plus de métaphore, mais de métamorphose.
For me, it's not anymore about metaphors, but about metamorphosis.


Tous les ismes sont des constructions.
All -isms are manufactured.


Une seule morale peut-être : celle qui éteindrait toutes velléités.
Maybe only one morality: the one that would extinguish all predilections.


C'est le détail qui distrait, et qui fait vivre.
It's the detail that distracts, and that makes us live.


Oublions les choses, ne considérons que les rapports.
Let's forget things, let's consider only relationships.