— Related to the School of No Media Quotes —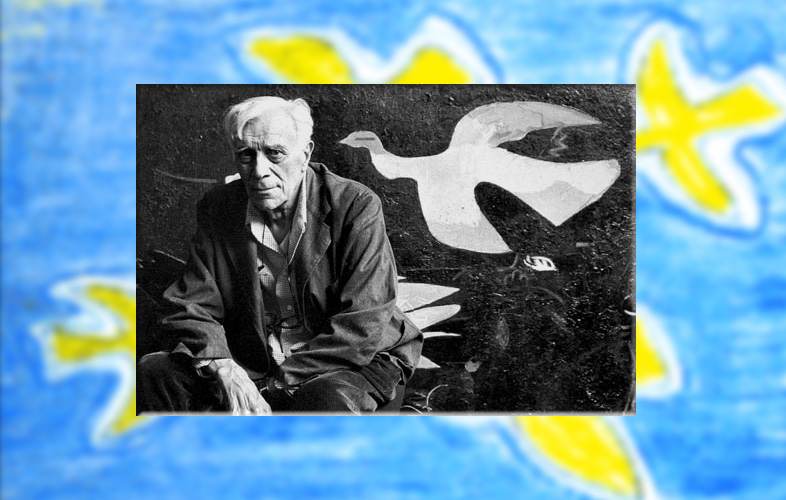 AT THIS POINT
primarily in French (translation is on its way).
— Please use the Google Translate tool on this site for an approximation. —

Georges Braque dans Le Jour et la Nuit (Cahiers de Georges Braque 1917-1952) – Copyright Gallimard
Avoir la tête libre : être présent.
Having a free head: to be present.
Je ne fais pas comme je veux, je fais comme je peux.
I don't do as I want, I do as I can.
Il n'est en art qu'une chose qui vaille : celle qu'on ne peut expliquer.
 Only one thing is worth it in art: that which one cannot explain.
Ceux qui vont de l'avant tournent le dos aux suiveurs. C'est tout ce que les suiveurs méritent.
  Those who move forward have their back to followers. That is all that the followers deserve.
J'ai le souci de me mettre à l'unisson de la nature, bien plus que de la copier.
 My concern is to put myself in unison with nature, much more than to copy it.
Écrire n'est pas décrire, peindre n'est pas dépeindre.
 To write is not to describe, to paint is not to depict.

La vraisemblance n'est que trompe-l'œil.




  Realism is but a trompe-l'œil (optical illusion) technique.



Le progrès en art ne consiste pas à étendre ses limites, mais à les mieux connaître.
Progress in art does not consist of extending its limits, but of knowing more about them.

Définir une chose c'est substituer la définition.
To define a thing is to substitute its definition.

L'action est une suite d'actes désespérés qui permet de garder l'espoir.
Action is a series of desperate acts that allow one to remain hopeful.

Le conformisme commence à la définition.
Conformism starts with the definition.


Le vase donne une forme au vide, et la musique au silence.




A vase provides a shape to the void, and music, to silence.



On ne peut pas avoir toujours un chapeau à la main, c'est pourquoi on a inventé le portemanteau. Moi j'ai trouvé la peinture pour suspendre à un clou mes idées : cela permet d'en changer et d'éviter l'idée fixe.
Ma thèse tient? C'est que vous la soutenez.
La vérité existe ; on n'invente que le mensonge.
Il faut choisir : une chose ne peut être à la fois vraie et vraisemblable.
Il faut toujours avoir deux idées, l'une pour détruire l'autre.
Je n'ai jamais pu discerner un commencement d'une fin.
Le pessimiste ne protège pas ses idées, il les expose.
Il a beau changer d'idées, il est comme moi, il garde le nez au milieu du visage.
Ceux qui s'appuient sur le passé pour prophétiser feignent d'ignorer que ce passé n'est qu'une hypothèse.
La vérité se protège elle-même : les antagonismes croissent autour d'elle avec symétrie sans l'atteindre.
L'idéalisme est une forme convenue de l'espérance.
La magie est l'ensemble de moyens qui suscite la crédulité.
Le tableau est fini quand il a effacé l'idée.
Peu de gens peuvent se dire : je suis là. Ils se cherchent dans le passé et se voient dans l'avenir.
Ce qu'on ne nous prend pas nous reste, c'est le meilleur de nous-mêmes.
Les frontières sont les limites de la résistance. Le lac demande à ses bords de le contenir.
Ne jamais adhérer.
L'écho répond à l'écho. Tout se répercute.
Avec l'âge, l'art et la vie ne font qu'un.
Je ne cherche pas la définition. Je tends vers l'infinition.
C'est l'imprévisible qui crée l'événement.
Le militant est un homme masqué.
La culture engendre la monstruosité.
Il faut se contenter de découvrir, mais se garder d'expliquer.
Dans le présent, rien ne se pose, tout se conjugue. Force et résistance ne font qu'un.
Il n'y a que celui qui sait ce qu'il veut qui se trompe.
La connaissance du passé ; la révélation du présent.
Les preuves fatiguent la vérité.
L'espoir est né de la crainte du lendemain.
La vérité n'a pas de contraire.
Le moraliste perfectionne le mal pour exalter le bien…
Les intellectuels : les besogneux de l'intelligence.
Pour moi, il ne s'agit plus de métaphore, mais de métamorphose.
Tous les ismes sont des constructions.
Une seule morale peut-être : celle qui éteindrait toutes velléités.
C'est le détail qui distrait, et qu'il fait vivre.
Oublions les choses, ne considérons que les rapports.